Tradition, nature and active citizenship
Tradition, nature and active citizenship
Natural resources and traditional handicraft may be a great foundation for sustainable development and community building. The challenge is to make use of what is local, typical and traditional.
Two groups of experts: from Kirghizia (Min Kiyal Foundation) and Poland (Fundacja Przyroda I Człowiek) came together to share their experience and inspire each other.
In the vast mountains of Kirghizia the Polish group could see how traditional handicraft is 'translated' into modern language to be attractive for customers without loosing its roots and quality. The unique element of the work of Min Kiyal Foundation is getting local communities involved – they cooperate with artists, crafters and sheep breeders for common and individual benefit. And what's important: they fully rely on local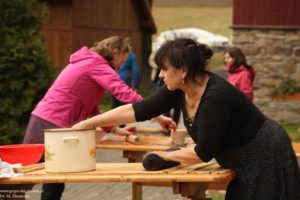 resources what makes their activities very sustainable.
When Kirghiz experts came to Poland, a wide range of activities was organised in two local communities. There was a workshop on traditional Kirghiz weaving for experienced weavers and various meetings with local artists, crafters and sheep breeders.
This E-Motive exchange was a union of passionate experts – the mutual inspiration and ideas for common actions appeared and the exchange is just a beginning of a long-term cooperation.
Even if at first glance it seems that traditional handicraft, active citizenship and nature preservation are not connected, we have all learned that it is just the other way round!
[nggallery id=13]