"We do have a solution to the global problem of resistance to antibiotics!"
"We do have a solution to the global problem of resistance to antibiotics!"
"We do have a solution to the global problem of resistance to antibiotics and we should use it!" This is the vision of drs. Katrien van 't Hooft, Dutch veterinary doctor and livestock development expertand initiator of the E-Motive 'India-project'. "The increased resistance of microbes against antibiotics threatens human beings and animals across the globe. Large amounts of antibiotics are used in dairy farming. Alternatives are available, such as medicinal plants, but not often used in the Netherlands and not sufficiently controlled in India."
Dutch-Indian exchange for the reduction of antibiotics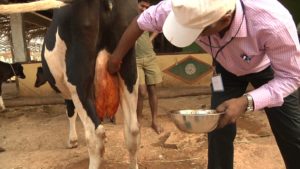 So what's there to do but organize an exchange between Indian and Dutch experts? And that is exactly what is happening. Dutch farmers and veterinarians were visiting Bangalore in India in April 2014, to learn more about the expertise related to medicinal plants developed by I-AIM and partners. During their visit the Dutch group has spoken to numerous farmers and veterinarians. Everywhere their colleagues informed the about the positive outcome of the use of medicinal plants. Most of them are now using the medicinal plants in a stand-alone mode; others in combination with the local application of antibiotics. Moreover, the use of medicinal plants is now actively stimulated by large dairy corporations and veterinary associations like the Karnataka Milk Federation in Bangalore, Erode Milk Federation in Tamil Nadu, en de Kerala Veterinary Council in Kerala. For the farmers, who are cultivating the medicinal plants in their home gardens, this system also implies a 90% reduction in their animal health costs.
You can watch an impression of the exchange via RTV Oost (in Dutch) or watch the movie "Lessons learnt in Dutch Dairy Farming".
Yesterday the first members of the Indian delegation arrived to the Netherlands! Between 21 October and 1st of November 2014 this group of Indian experts on the use reduction of antibiotic use in dairy farming are visiting Dutch farmers, veterinarians and scientists. The Indian delegation includes veterinarians, herbal plant experts, the president of the Kerala Vetyerinary Association, as well as the director Animal Health of the Karnataka Milk Federation in Bangalore – India's second largest dairy cooperative with 2.5 million members.
The program includes several events during the visit of the Indian experts that are open for interested people:
* Symposium "Cows and Herbs"
* Africa Day-workshop "Milk Quality at Stake!"
Are you interested in the programme or the methodology? Click the links or contact mrs. Katrien van 't Hooft, +31 (0)6-16641874.
We are looking forward seeing you on one of these events!