Gender dynamics in rural finance
Exchange facilitating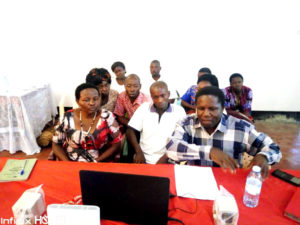 The online E-Motive exchange was organized for the team in Nigeria to learn how to improve gender dynamics on rural finance projects. For the first time, best practices from four different countries were selected and invited to participate from this exchange: -Livelihoods and Food Security Program (LFSP) –Zimbabwe -Bukonzo Joint –Uganda -DUHAMIC-ADRI –Rwanda -ASKI, NWTF & Oikocredit –Philippines For each of the chosenconditions(trust amongst spouses, have a decent income also in low harvest periods and be inclusive for people who cannot read and write) , the best practices have developed different tools that they apply in their own groups or projects.
Lydia Ameh - GALS Expert

This has been an amazing and enlightening workshop. Very interesting content and technique with great results which I will use in my practice.
Musa Bitrus Ndahi – Field Officer, Agri. Extension 

With the Emotive Exchange training, I believe now that I can fly. This is because this training has given me wings to fly high with the knowledge of GALS and FALS been integrated in our groups especially in the VSLA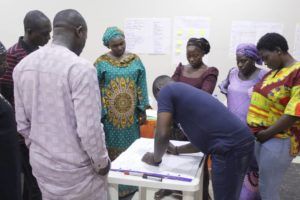 The exchange was organized per country/best practice, so each day the participants focused on learning about one of the above-mentioned best practices. Prior to the exchange each best practice prepared short videos for each of the conditions that they needed to talk about and a presentation (if necessary) to include more details. Togive participants,the sense of a "trip" each day started with a video that simulated a field visit were the best practices showed information about their region (including food, music, landscape) and the main work of their organization. To avoid too long screen-time and in order to give space for more interaction, the sessions were composed by a combination of videos and presentations; offline reflection time; andQ&A sessions. This structure allowed the Nigeria team to take advantage and dig deeper on the given information and to have space to reflect offline using sticky notes and clipcharts and do it the local language. At the end of each day, the Nigeria team reflect on the learnings of the day, select their preferred approaches and elaborate and action plan. A simple three-step decision-making matrix was used to make this process as easier and clear as possible. Each day, the team in Nigeria took some time to have offline discussions, fill in the matrix and, later, presented the results to the team in Oxfam Novib. At the end of the week, these daily reports were used to elaborate a final action plan to test the learnings in a pilot in Nigeria and design a tailored toolkit.
Sunday Galadima – Project Officer 

This Emotive Exchange learning is Ogbonge! (Ogbonge' means 'Original' or 'Authentic)
Joseph Akolo Iki – Monitoring and Evaluation Officer

The training is useful, and I see light at the end of the tunnel from the learning trip! The Emotive training process is a dream realizer! From what we have seen in this training we have seen a lot of inspiring achievement.
Here you will find the report of the exchange.