Project
Empower@Scale (E@S)
Like trees, households need to be properly balanced if they are to bear rich fruits. If the roots are not equally strong on both sides or if fruits are heavier on one side, the tree will easily fall over and there will be no harvest next year. Intra-household gender relations matter in rural development. Oxfam Novib and Hivos joined hands with support from the International Fund for Agricultural Development (IFAD) to increase gender equality, empowerment, and participation in rural transformation programs.
In recent years the demand for integrating "Household Methodologies" (HHM) in rural transformation programmes reached unprecedented levels. IFAD recognises the Gender Action Learning System (GALS) as the most comprehensive and effective HHM to address social norms, attitudes, and systems that represent the root causes of gender inequality. To make a significant global impact on gender equality, millions of people need to be reached.
Watch the video to learn more about GALS!
The scaling-up process is based mainly on voluntary peer replication in communities through "champions" who have undergone major changes themselves. This replication process is also needed at the level of CSOs, government agencies, and companies. For this to happen, the Empower@Scale project applies the following four strategies:
Facilitate the professionalisation of 6 Empowerment Learning Centres (ELC) in Kenya, Uganda, and Nigeria where clients from at least 15 countries can reach to learn and gain hands-on experience on household methodologies.
Engage with at least 20 IFAD-supported projects and others for HHM capacity development.
Link isolated HHM initiatives into Regional Hubs and a global network with universal principles to secure the quality, and to strengthen the knowledge and evidence base.
Develop tailor-made HHM approaches for easier integration in programs (such as rural finance, youth, private sector engagement, etc).
By applying these strategies, the project aims to scale up the use of this methodology from thousands to millions of people whose households would benefit from innovative, gender-equitable solutions in livelihood planning.
This E-Motive process is focused on the last strategy: funding new approaches to GALS in order to reach new target groups. In this particular case, the process aims to develop new innovative ways that could make young people in Uganda interested in GALS.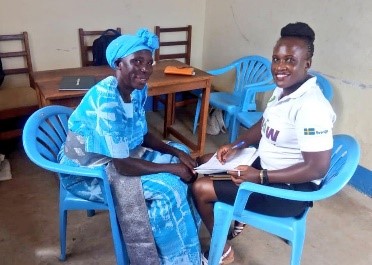 Peace in action in E@S