Rural Hub Pakistan
Knowledge sharing
Return visit
Three representatives of READ Nepal, Daayitwa and Rockstart Impact from Nepal visited the learning group in Pakistan to share their experience with Oxfam Pakistan, partners, government representatives, youth and one of the communities. In a 6-day programme they visited the new projects that the learning group started and shared suggestions and new ideas to implement the lessons further.
"One of my inspirational moments was to learn about the father/uncle of one of the innovators in Jamsoro called Maria. He had stood against the social norms that did not let the girls to be a part of community activities and encouraged them to go to school, become farmers and take part and organize events with the boys.

It was very inspiring for us to learn that the event we participated in Jamsoro community was the first one where girls and boys had come together. I was happy to learn that the father/uncle was the catalyst of the positive change among girls."
Tara Prasad Panthi, Co-Founder and Program Director, Daayitwa
Some of the reflections and observations by the three representatives on the return visit include:
The rural hubs will be sustainable if the local community has feeling of ownership and engagement as well as local level partnership with local stakeholders. Local community engagement can be increased through the meaningful their participation, representation, involvement and respecting their volunteer contributions towards the Hubs and its programs.
Collaboration with the stakeholders such as the government, academia (universities), private sector and the community will be the key to the success of the project and the hub.
Awareness raising works and technical trainings at the level of innovators and initiators seems to be effective and commendable. Local youth leaders (innovators) and the initiators clearly seem to be very much motivated and benefiting from the interventions of EYW.
 "Youth empowerment is instrumental for positive change of society. Innovators like Khusbu and Maria of E-Motive Jamshoro can ignite for change"
Chhatra Bahadur Khatri, Program Director READ Nepal
When Nepalese met Pakistanis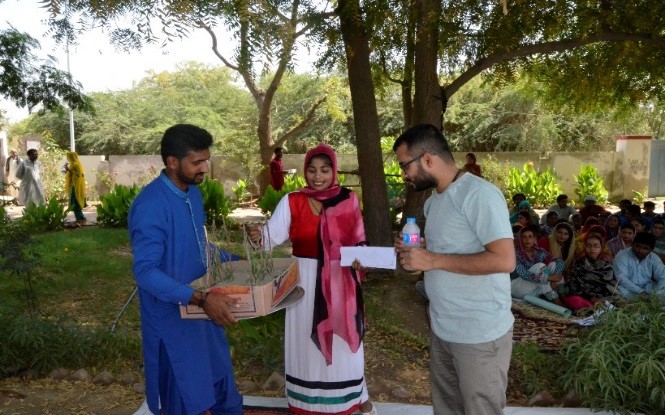 "It seems like yesterday when EYW Pakistan team returned from Emotive exchange visit of Nepal with bucket full of ideas to implement in the districts of Layyah and Jamshoro and spin the wheel of entrepreneurship in right direction. But it wasn't as easy as we all thought as yet again we had to give our day and night to shift the paradigms specially when it comes to bringing the girls into business arena."
Read more here in Bushra's blog, Project Officer Empower Youth for Work Pakistan.