Hamri Bahini – The Green Angels
Project with solution
Hamri Bahini – The Green Angels
Founded in 2013 by Himalaya Climate Initiative
Kathmandu, Nepal
Hamri Bahini - The Green Angels is a women empowerment movement fuelled by social enterprises.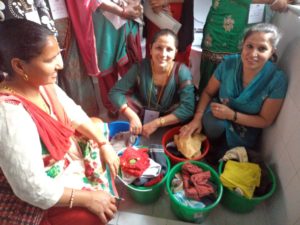 Challenge
Gender based prejudices and misogynistic mindsets lead to a lack of respectable livelihood opportunities for women. Women are often forced into prostitution, suffer from violence at their workplace or are hindered access to fair earnings. There are no long term sustainable solutions for women to sustain themselves. A lot of conventional women's empowerment focuses merely on trainings, but is not leading to income generating opportunities.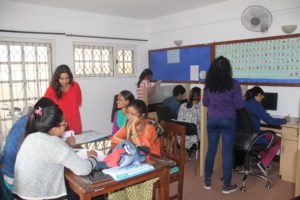 Solution and innovation
Hamri Bahini is a women's empowerment movement that focusses on green social entrepreneurship. They use technology along with dynamic youth energy and focus on three aspects of sustainable development: social, economic and environmental. Hamri Bahini empowers Nepali women via green social entrepreneurs ventures and action-based advocacy. They offer capacity building training, employment creation and mediation. They also conduct Green Housekeeping Training for environment friendly practices at household, office and restaurant spaces. Their online job placement service provides a platform on which employers can find female employees for household work. The network has evolved into a solidarity group of women supporting other women and relying on Hamri Bahini for professional services and help.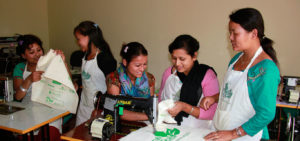 Results
In 3 years' time the program has created and mediated job opportunities for more than 600 women. They promoted more than 16 women entrepreneurs, and helped 6 women entrepreneurs incubate a biodegradable bags business. More than 2700 women are now registered with Hamri Bahini. On average they are able to negotiate a respectable salary of Rs. 8000,- per month for full-time household work. Advocated have helped raise resources and brought women from different background and identities together to create a safe space for women to talk about tabooed issues in the community.
When Hamri Bahini was launched, it employed dozens of women to produce biodegradable bags. These women were introduced from agencies like Maiti Ghar and had different troubled backgrounds including trafficking. They worked as salaried staff members whose earning started at Rs. 5000/month. This large group filtered down to leading 6 women who now have registered their own biodegradable bags business. Their income has increased up to Rs. 11,000/ month. They have also employed 1 other woman and hired 1 more as trainee.