Project with solution
Sukanya
Founded in 2005 by Aparna Banerjee
India
Sukanya is a social value chain of the retail business that is managed and created by disadvantaged women.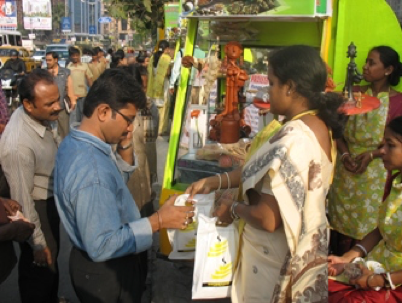 Challenge
Disadvantaged populations in rural economies have little access to supply chains of the retail business. Many are unorganized, have no legislative protection, or access or knowledge to supply management, logistics, institutional credit etc. The growth of large, organized retail is threatening small unorganized retailers. Especially, women are not offered broader visions of themselves as actors in a global business. Their potential for growing is limited, since there is no social relationship between groups of women to share broader economic opportunities.
Solution and innovation
Sukanya is an end to end social value chain, created and managed by disadvantaged women. The micro-retail chain rests on an intelligent supply chain management and distribution network, robust back-end operations and third-party logistics. Through the collection of technology-enabled real-time sales data women entrepreneurs can keep track of consumption and available products, and thus spot opportunities for production across regional markets. They can scale up their production and move products to where demand is growing. All the profits filter back into the chain. Their solution helps enterprises understand and operate their business profitably, and offers services such as transportation, storage, warehousing and inventory management. This enables marginalized women to compete with and be part of the retail business in a sustainable way.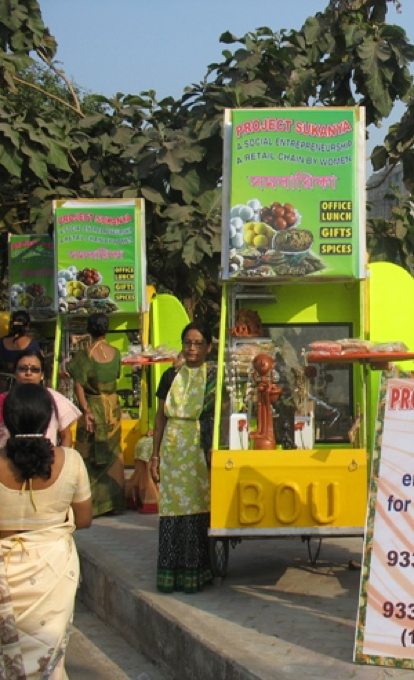 Results
At hundreds of mobile roadside kiosks women are selling goods produced by rural women throughout the districts in India. All the carts are manufactured by the Sukanya project, and have all the required permissions and licenses to place them on the roads. The project started in early-2007 and already reached 10,5 million Rs by mid-2008. Sukanya has a 20.000 sq. ft. common facility centre at Topsia.
"I realised that women need financial independence to get freedom from restrictions, abuse and social taboos. I found that retail was the only option. But setting up huge retail space was beyond my capabilities. I hit upon the mobile kiosk idea and worked on it for two years, getting all required permissions and licences to place them on the roads. No loophole was left open. The carts are manufactured at our own unit," Aparna Banerjee.
Sukanya appeared in this news article in The Weekend Leader.